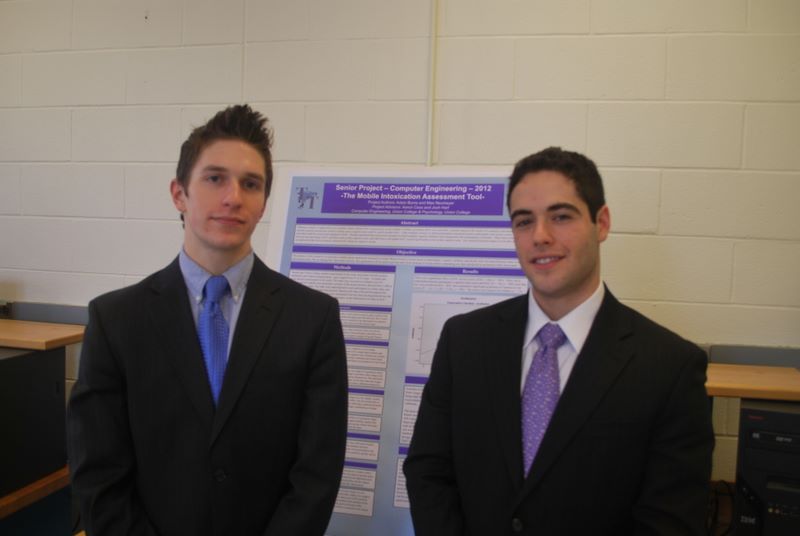 Adam D. Burns and Max A. Neumeyer
Advisor: Prof. Cass and Prof. Hart <! QC-8.top>
Whereas a variety of applications are available which estimate BAC based purely on the number of drinks consumed, there is no such BAC estimate based on the results of a cognitive assessment. The current research assessed the extent to which such a cognitive test could be used to predict BAC. After multiple sessions in which participants consumed alcohol, participants were given a series of cognitive tests that would be scored and compared to BAC. Results replicated that of previous research in which multiple cognitive abilities were impaired by the consumption of alcohol. There was a relationship between the participant's BAC and their score on the cognitive tests, such that those with higher BAC scored significantly lower on the cognitive tests. Our research therefore leads us to be able to develop an application that will accurately estimate BAC based on cognitive performance.

---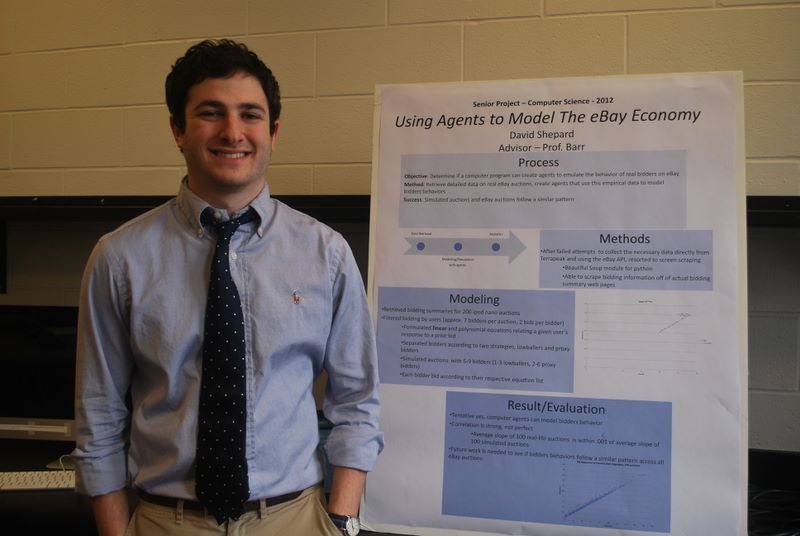 David Shepard
Advisor: Prof. Barr <! QC-8.top>
The virtual marketplace eBay is the largest of its kind with a net assets totaling over $25 billion and over 27 thousand employees all over the world. EBay allows anyone with a computer and internet connection to reach an audience of over a million people all over the world. My senior project aimed at understanding and replicating the behaviors of bidders on the marketplace. In order to facilitate this I elected to use agents to simulate the real life behaviors of bidders on eBay. These agents are autonomous acting entities who interact with each other according to "rules". The essence of my thesis thus lies in these rules and in order to formulate them I first needed to collect empirical data on historical eBay auctions. Once I acquired the appropriate data I was able to create rules my agents would follow, based on this data, and then ran a number of simulations in order to test these rules.

---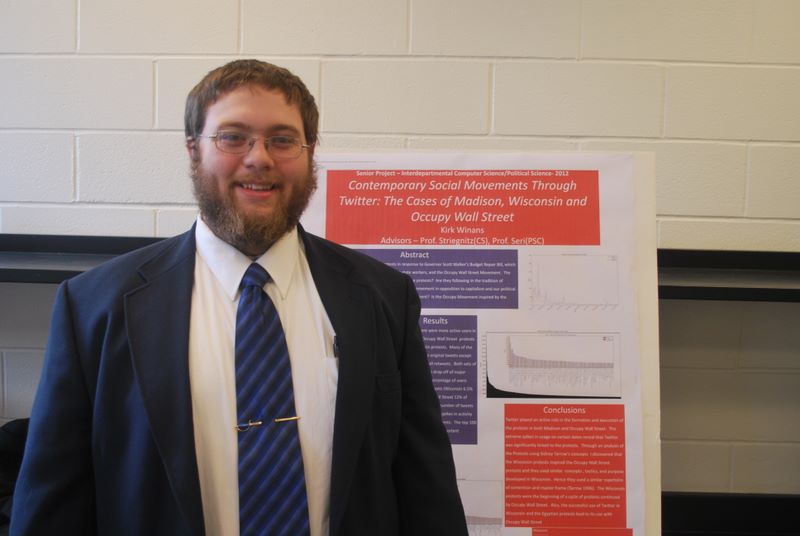 Kirk M. Winans
Advisor: Prof. Striegnitz <! QC-8.top>
This project investigates the Madison, Wisconsin protests in response to Governor Scott Walker's Budget Repair Bill, which took most collective bargaining rights away from state workers, and the Occupy Wall Street movement in opposition to corporate influence over the political system in the United States. What common elements do these protests exhibit? How does the Twitter activity reinforce the social movement analysis? In what ways and to what extent is the Occupy Movement inspired by the Madison protests? What about their goals and "repertoire of protest" can be recognized in the tradition of previous social movements, and what instead seems new and thus constitutes a new movement in opposition to capitalism and the United States' corporatocracy? Twitter was used extensively by the protestors and people talking about the protests. The tweets relating to these protests are analyzed by user and word counts to discover the patterns of participation, the spikes in activity on Twitter, and the important concepts used by tweeters. The protests on the other hand, are analyzed according to Sidney Tarrow's key concepts of social movements such as repertoires of contention, master framing, and cycles of protest. I argue that these two cases of prolonged protests have developed a new social movement in opposition to the corporate influence in our political system and the inequalities of our economic system.

---